OVER 50 YEARS OF TERMITE & PEST CONTROL EXPERIENCE
From Collierville to Corinth and Memphis to Dyersburg, the team at 901 Pest Control has the expertise in residential and commercial pest control to protect your family or business against all types of insects and termites! We're a family-owned pest control company that strongly believes in providing our customers with unrivaled pest and termite services with personalized customer service. No matter how big or how small your pest problem is, you can count on our team of trained pest control technicians to rid your home or business of unwanted pests such as ants, roaches, spiders, mosquitoes, rats, mice, termites, and wasps. We understand that pest infestations of any kind can wreak havoc on your home or business, so we offer prompt, professional pest control services when you need them most.
WE OFFER FREE PEST EVALUATIONS!
Don't attempt to solve serious pest infestations on your own – instead, rely on the trained pest control professionals at 901 Pest Control to solve your pest problem quickly and safely! Our professionals are licensed and certified in both Tennessee and Mississippi. Our friendly and knowledgeable technicians understand exactly how to control ants, roaches, spiders, rats, and mice. Ants as well as other pests are difficult to control and can quickly overtake your home or business.
901 Pest Control is a family-owned pest control company
that has worked hard to earn our
5 Star business reputation
by responding to our customers and protecting your homes and family! We stand behind our services with our Satisfaction Guarantee: If the bugs come back, so do we!
OFFERING THE ULTIMATE TERMITE PROTECTION
The threat of termites is high for residents in the midsouth living in West Tennessee and North Mississippi because we are considered to be in the Termite Belt of the Southern USA. Subterranean termites can cause extensive structural and cosmetic damage to homes and buildings! Termites are often referred to as the hidden invaders – as most homeowners are unaware of any termite infestation until the damage has been done! The National Pest Management Association estimate that termites are responsible for up to $5 billion in damage repairs in the USA each year – more than fires, tornadoes, and hurricanes! 901 Pest Control is the company most trusted by Midsouth homeowners and businesses. Our service technicians are trained to follow the manufacturer's termite treatment protocols as well as state regulations. Our goal is to effectively treat your home and control subterranean termites before extensive damage can be done. In fact, 901 Pest Control has been voted Memphis Best Pest Company every year since the pest control category was added in 2017. (*Voted Memphis Best by the customers & readers of the Memphis Commercial Appeal).
RESIDENTIAL & COMMERCIAL PEST SERVICES
Residential Services: Protect your home from unwanted pests by calling your residential pest experts at 901 Pest Control. Whether you can't seem to get rid of the endless number of ants in your kitchen, or you need termite control to protect your home, we are here to help with our cost-effective residential pest services.
Commercial Services: Keep your commercial restaurant or facility pest-free when you rely on 901 Commercial Pest Control Services. If you manage multiple properties or just a large warehouse, chances are you have had to deal with one or more pest problems interfering with your day-to-day operations. We also offer various commercial pest control services and solutions for retail, restaurant, and other commercial businesses.
MEET THE LEADERS AT 901 PEST CONTROL
"Helping customers solve issues at their homes or in their businesses. I love having good customer service, and that is the number one thing our company provides. The one thing that makes me happy about coming to work every day is knowing that is my future and my family's future."
RICHARD HILL JR.
OPERATIONS MANAGER
"My family gets to build something that provides the customers and residents of this area a company they can trust and respect. It's a great feeling when you get to come to work with your family and get to help other family's resolve issues they may be dealing with."
MURPHY HILL
SALES MANAGER
"The joy that our customers bring to us daily makes me enjoy work and brings me back every day. At the end of the day, our company's goal is to strive and provide excellent customer service."
GREY PEEVY
MARKETING MANAGER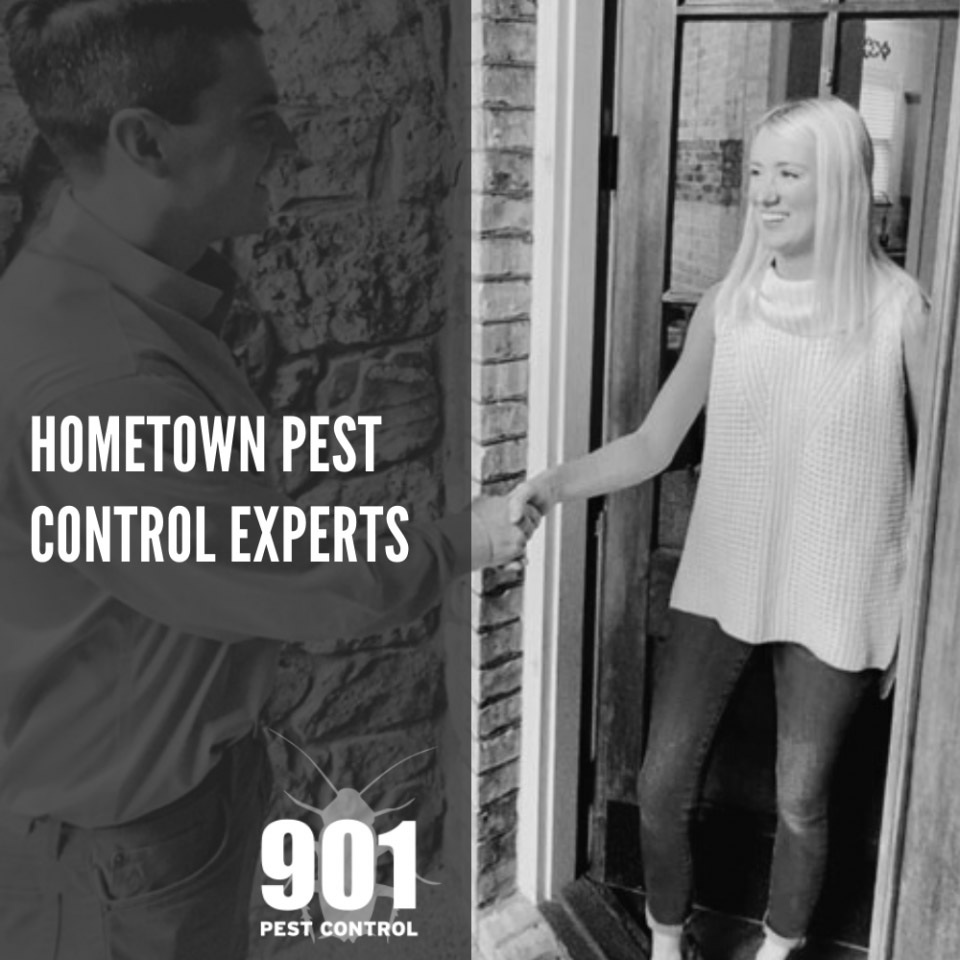 SEE OUR WORK & REVIEWS FROM YOUR NEIGHBORS!